Reading Time:
5
minutes
Towards the end of 2021 our funded trading prop program launched. It's taken some time, but that's because we've been building the best funded trader program of any of the prop firms. Our background in the trading business at Trade Room Plus put us in a great position to launch a prop trading firm. Since starting in 2013 Trade Room Plus has helped thousands of traders learn how to trade successfully. Funded Trading Plus is a logical extension of Trade Room Plus and our forex funded trading programs directly reflect what our traders told us they wanted a funded trading firm to provide. 
In 2022 traders from anywhere in the world will be able to test their trading skills and win funding of up to $2.5 million. The Funded Trading Plus programs take the best bits of different existing programs and brings them together to offer unique funded trader programs with clear and simple rules.
The Funded Trader Program
These are the top 3 funded trader programs for 2022
The Experienced Trader Program – one stage evaluation
The Advanced Trader Program – two stage evaluation
The Master Trader Program – direct funding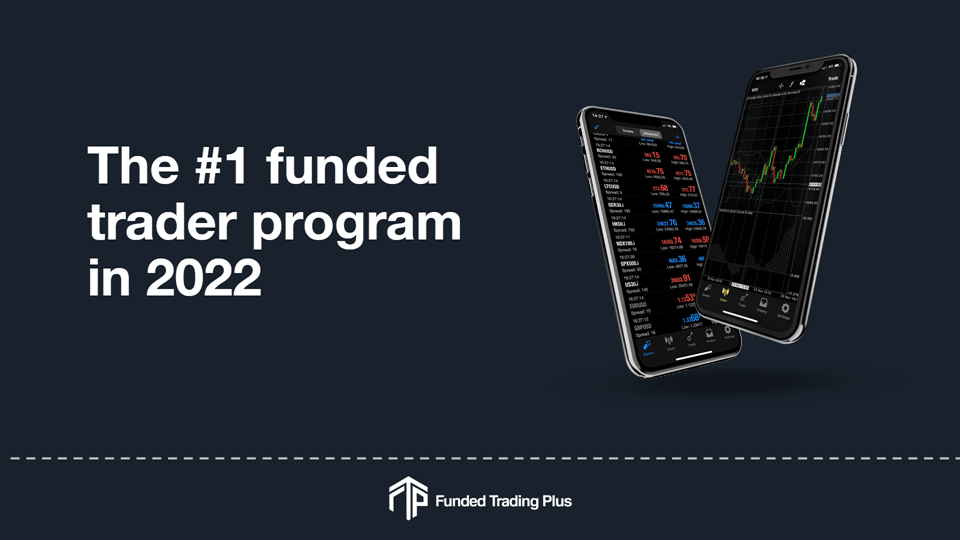 Funded Trading Plus the #1 Prop Firm in 2022
Funded Trading Plus is the #1 prop trading firm in 2022. That is our prediction and we will be pulling out all the stops to make sure this happens. The best funded trader programs, at the best price, with the best customer service, and most importantly the best payout record. 
Our funded trading programs are built to be better than all the other funded trading prop firms. Most importantly, unlike others, we have no difficult and restrictive rules that are designed to make you fail quickly. We will only fail traders who breach the drawdown limits. Trading is all about money management, take care of your money management, stay on the right side of the drawdown limits and pretty much trade as you like.
The Easiest Funded Trader Account Rules
The 2 biggest funded trader providers in this market are currently FTMO and MyForexFunds. They have good programs and both published articles about their sales and success rates for 2021. These try to paint a positive picture but when you do the sums you can quickly work out that the success rate of account passes versus account fails is very low.  Currently our success rate is multiples higher. Wouldn't you prefer to trade with a company that gives you a greater probability of success? Please see this FTMO article. And this MyForexFunds one.
We suspect that the key factor that tempts traders into failure is the ability to take excessive trade sizes. High leverage (100-1) looks good but in reality is not needed. 10-1 leverage is more than enough. 
We ask our traders to just stick to a few simple rules:
Hard Rules – Account closed
Do not breach our daily drawdown limit of 5%
Do not breach our total drawdown limit of 10%
Soft Rules – Trades closed, no account closure
All trades require a stop loss
All trades must be closed by 21:30 GMT on Fridays. New trades can be placed when the market re-opens, for some markets this may be within an hour.
And most importantly, unlike a good number of other programs our funded accounts are real and not demo trades. This means that when you win big, your trades have been taken in the real market and the profit exists to pay you. 
Funded Trader Firm Failure
You will have seen in online forums how some funded trading firms have failed to pay a successful trader. This is usually because they have not placed the trader's trade in the real market and therefore do not have enough cash available to pay out. Their business model works fine when payouts are small, but if you are a particularly successful trader and have earnt a great deal of money they may come up with excuses and not pay you. We do not think this is either morally right or fair, what do you think? Please let us know in the comments below.
The Best Prop Funding Programs
Our new Experienced Trader Program is a one stage evaluation that does not have any of the unfair and restrictive rules that many other programs have. Traders will be able to trade Forex, Index markets, Gold, Oil and most importantly Crypto markets. Funded Trading Plus is the first prop trading firm to offer over 200 crypto markets. 
We have two main evaluation programs, the Experienced Trader Program is a one stage evaluation with 5% Drawdown and 10% profit target and the Advanced Trader Program is a two stage evaluation with a bigger drawdown allowance. Both programs have $25,000, $50,000 and $100,000 options and it's possible for traders to scale up to a real $2,500,000. We also have a $12,500 Experienced Trader Program specifically for beginner traders.
The Best Prop firm for Crypto
One of the unique aspects of our Funded Trading Program is the number of markets we have available for traders. We have more markets in our forex funding program than other providers. A funded trader can trade forex, indicies, commodities and over 200 crypto markets. See our list of available markets here. This certainly makes our programs the best funded trading firm for crypto traders and very much supports our drive to be the best funded trading program for all types of traders in 2002.
Read more about our funded crypto trading offer here: The best funded trading firm for crypto. 
Another unique feature of Funded Trading Plus is that we will also be giving away on a regular basis a free funded trading account to traders that want to be brand ambassadors for us. 
Read more about free funded trading account to brand ambassadors here: The Best Free Funded Trading Account 2022