Reading Time:
4
minutes
Prop trader Daniel Butts from New Bunswick, Canada, doesn't sit back and take his time. He is a trader who looks to catch a trend and then milk it fully. This is not an easy way to trade but he clearly knows when to push hard. Passing both stages of our Advanced Trader Program takes most traders a couple of weeks or so. Daniel did it in one day.
If Daniel was trading with another funded trading firm then it's likely he'd have to take meaningless small trades each day for a week or 2 so that he completes the minimum trading criteria many other firms have. At Funded Trading Plus we know that putting a minimum time/day limit on traders does not change their trading. Full in traders will still go full in and then sit around frustrated for a few weeks.
His Prop Trading Statistics
A quick look at Daniel's figures suggests he lives on the edge quite a bit. He has a very high win rate at over 90% but he does have a low profit ratio. His losing trades are much bigger that his winning ones. If that increases just a bit more then the high win rate won't be able to bear the equity loss. It will be interesting to see how Daniel does with a real funded trading live account.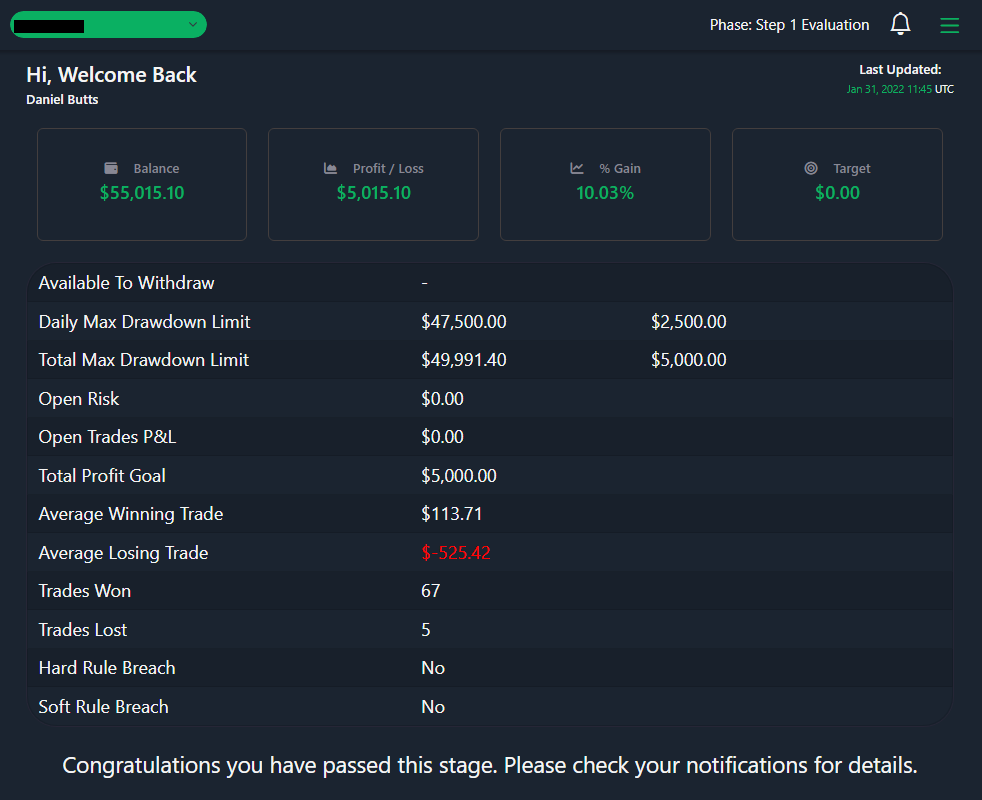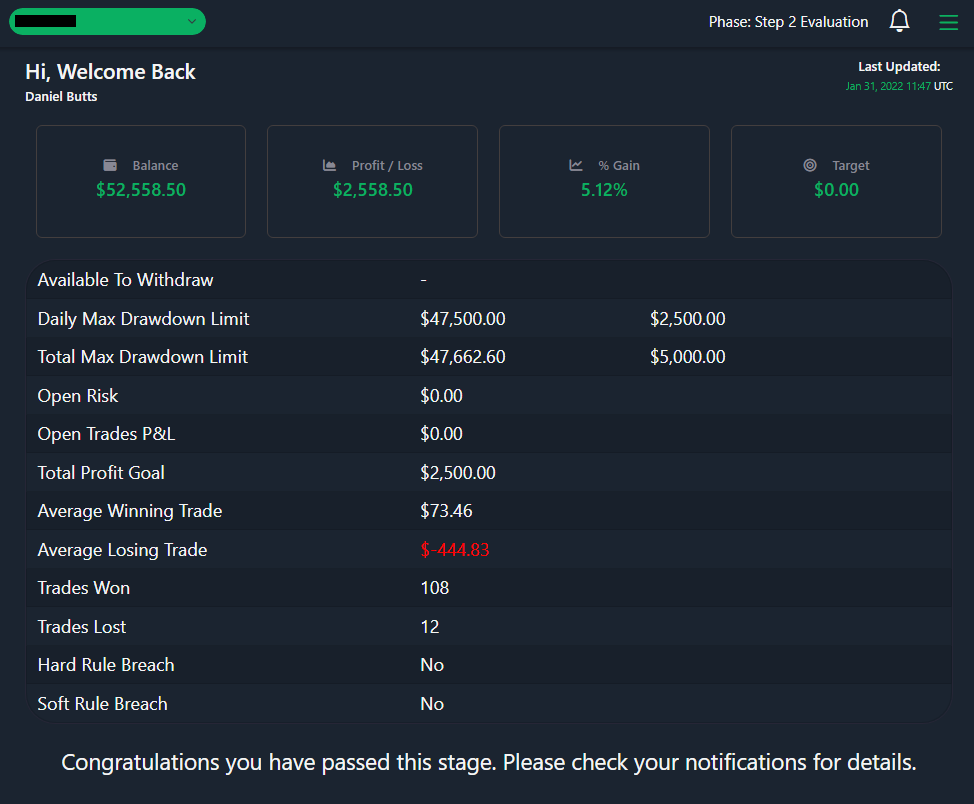 Daniels Prop Trading Success Story
We interviewed Daniel to get a better understanding of him, his trading and what tips he has for other traders looking to win a prop trading funded account.
Why did you pick FT+?
There was no minimum days to qualify and the pay is weekly
Please give us a short history of your trading
I have been trading for 6+ years – I started trading bitcoin and after 3 years learned how to trade Forex Pairs, then Metals and now I prefer Indices.
How would you describe yourself as a trader
I am an aggressive scalper – I am more technical than fundamental. 
Why did you originally start trading and what are your future goals?
My father, Uncle and Aunt were all professional traders so I group up around trading. I have a passion for trading and renovations.
What has been your biggest trading success?
Completing the Evaluation and the Assessment in 1 day for the advanced trading program – Another large success was doubling a 10k account in 26 hours.
What has been your worst trading experience?
Getting on the drawdown rollercoaster with a real 50k account and losing the whole thing – the worst part is it took several months of not getting proper sleep and living in stress.
What is the main strategy that you use? 
I created a strategy 4 years ago call Candle Surfing – It is reliable and it is a form of scalping.
Do you have systems to help money management and trade planning?
I figure out what lot size to use based on leverage, market and the size of the account.
Do you keep a trade log/journal and has it helped you?
No I don't, this is one of my weaknesses.
Can you describe a typical trading day
Normally I take a look at the market 15 to 30 minutes prior to the market opening – trade for 10 or 15 minutes and call it a day – I shoot for 1% to 2% a day.
What advice would you give to an aspiring new trader?
Find a mentor, Start on a demo account, Don't expect to learn everything in a week or even a year – Trading is like chess – there is always someone better than you and there is always more to learn.
What are your top 3 tips for passing a funded trading test?
1. Watch your drawdown 
2. Take a loss if you have to (don't get married to a trade) 
3. Make sure you get in a good entry (be patient)
Final Note
We wish Daniel good luck with his trading and we hope he pick some great trends as this is his route to generating his own wealth from prop trading.
You can view Simon's interview with Daniel below.