Reading Time:
5
minutes
The Best Free Funded Trading Account 2022
Are you a great trader looking for a free funded trading account in 2022? That's not too surprising. "Free funded trading", "free prop trading account" and "the best free funded trading account" are three of the most searched terms by traders on google. Sadly most of the main firms will not give you a free trading account. But at Funded Trading Plus, because we are looking for great traders rather than just generating fees, we do offer a free program. Our zero cost account is the best free funded trading account available from any prop trading firm.  This account has been available since January 2022.
Which funded trading firms offer free funded trading accounts?
FTMO does not offer a free funded trading account, nor does MyForexFunds, Earn2Trade, The 5%ers, TopStep or OneUpTrader. Pretty much nearly all the other online prop trading firms do not offer a free funded trading account. 
Funded Trading Plus does have a zero cost free prop trading program
The main reason our competitors don't is that their business model is focused on generating lots of fees from losing traders to profit from and also fund a small number of winning traders. At Funded Trading Plus our business model is different, we are focused on developing great traders and profiting alongside them. We do need to make fee income from evaluation traders to fund these great traders because our profit comes from the excellence of these great traders. Consequently, we are prepared to offer a limited number of free funded trading accounts.
Many Traders need a helping hand
Ever since announcing we were looking to start offering a market-leading funded trading program we have been inundated with requests from traders who want a free prop trading account. Most will claim to be very successful traders and a good number send us data to back up their claims. We have looked at many of these, and often, unfortunately, they turn out to be false claims, and even those that look "profitable" may have sent us false or copied data "borrowed" from another trader. We do have a very strong relationship with our brokers and are able to do a certain amount of research to verify these claims, but it takes a great deal of time and we have found that it's not an effective use of our resources. 
The Problem with Offering a Free Funded Trading Account
Ultimately it is almost impossible for us to easily identify the small number of great traders that do ask us for our help. We clearly can't offer a free account to all these traders, no business model would survive giving away all its product! This presents us and the other funded trading firms with a conundrum: spend a lot of time, money, and resource on filtering, to find a select few or not bother. All of our competitors have gone down the route of not bothering but we like to think differently.
Zero Cost Prop Trading Program Available Today
The Funded Trading Plus Free Trading Program has been designed to offer a limited number of forex prop trading accounts to applicants that are prepared to "pay" for the funded trading account with benefit-in-kind services. Once a week, 52 times a year, a trader applicant will be chosen whom we believe will help us the most to meet our goal of promoting our market-beating funded trading program on social media. If you want a free funded trading account then tell us how you will promote and be a brand ambassador on social media platforms. This could be via posts and videos on YouTube, Facebook, Twitter, Discord, WhatsApp, Telegram, Reddit, or any other social media platform. We want brand ambassadors who are both new traders and really experienced traders, what matters is that you fairly tell people about your experience on the Funded Trading Plus program. You tell us your ideas on your application and we'll give you a free $12,500 free forex funded trading account. It will have the same fair and simple trading rules of the Experienced Trader Program and if you hit the profit target you will either get a real funded trading account for free or you will be able to scale up to our maximum $1 million account. Now that's a great deal, only Funded Trading Plus is going to give you a real $1 million prop trading account for free. 
How to apply for a free prop trading account
To apply for a free funded trading account please use this form. Free Funded Trading Account Form from Funded Trading Plus
The Funded Trading Plus Experienced Trader Program and the Advanced Trader Program are 2 of the best prop funded trading programs available from any of the major funded trading firms.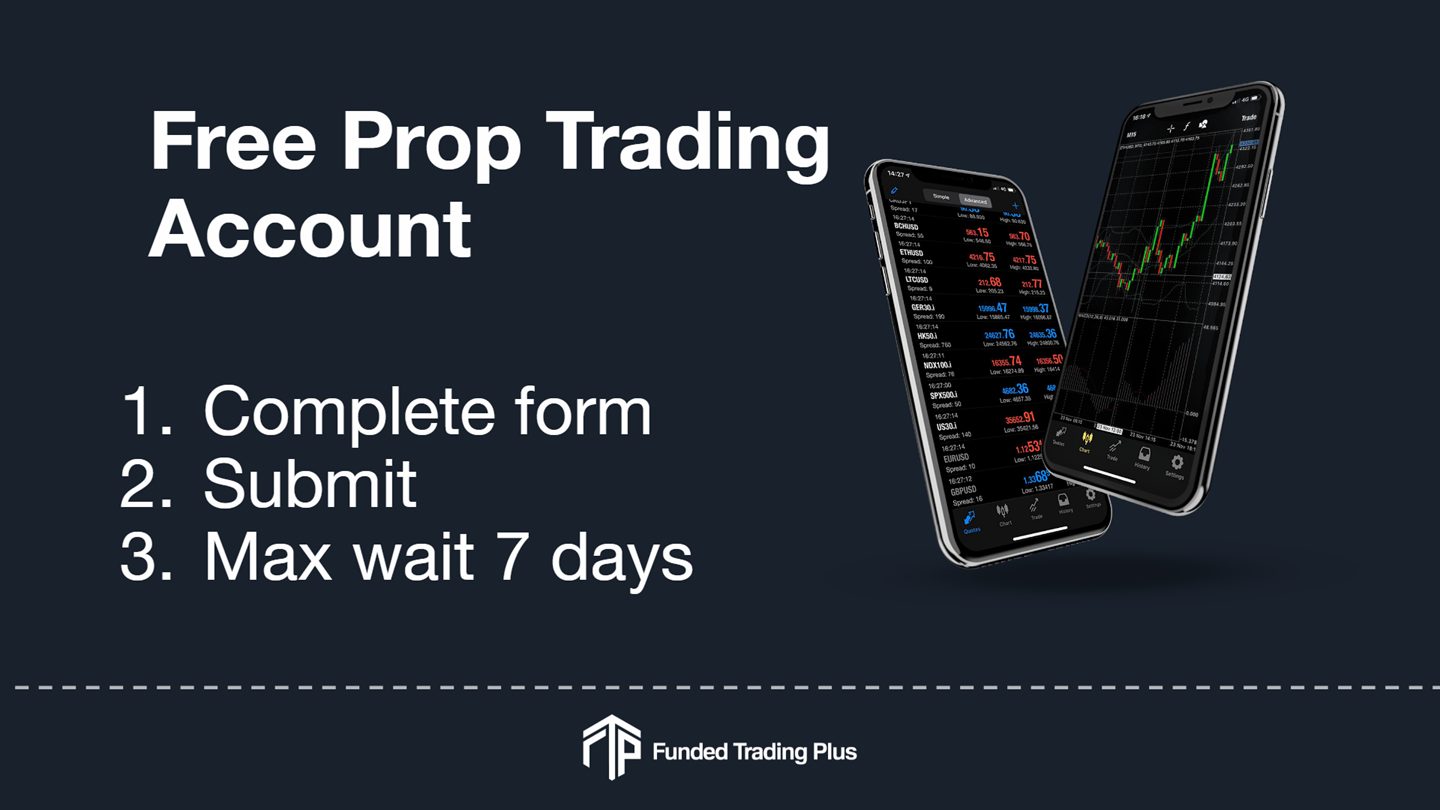 How to apply for a Free Funded Trading Account
1. Complete this form
2. Submit to Funded Trading Plus
3. Wait a max 7 days