Reading Time:
5
minutes
Zulfi likes quick markets, and his trading proves he knows what he is doing. Arshad Manzoor, who likes to be called by the shortened version of his middle name, lives in Leeds in the UK and has proved his trading skill by passing the evaluation stage of our Experienced Trader Program. We have now given him a fully funded $100,000 prop trading account.
Trading pretty much just one market, the Dow 30 DJIA using entries from the 1 min chart makes Zulfi a specialist in his market. Many traders make the mistake of trading too many different markets and they struggle to get a consistent read of each. Specialisation can help. Let's look at how Zulfi passed his funded trading evaluation.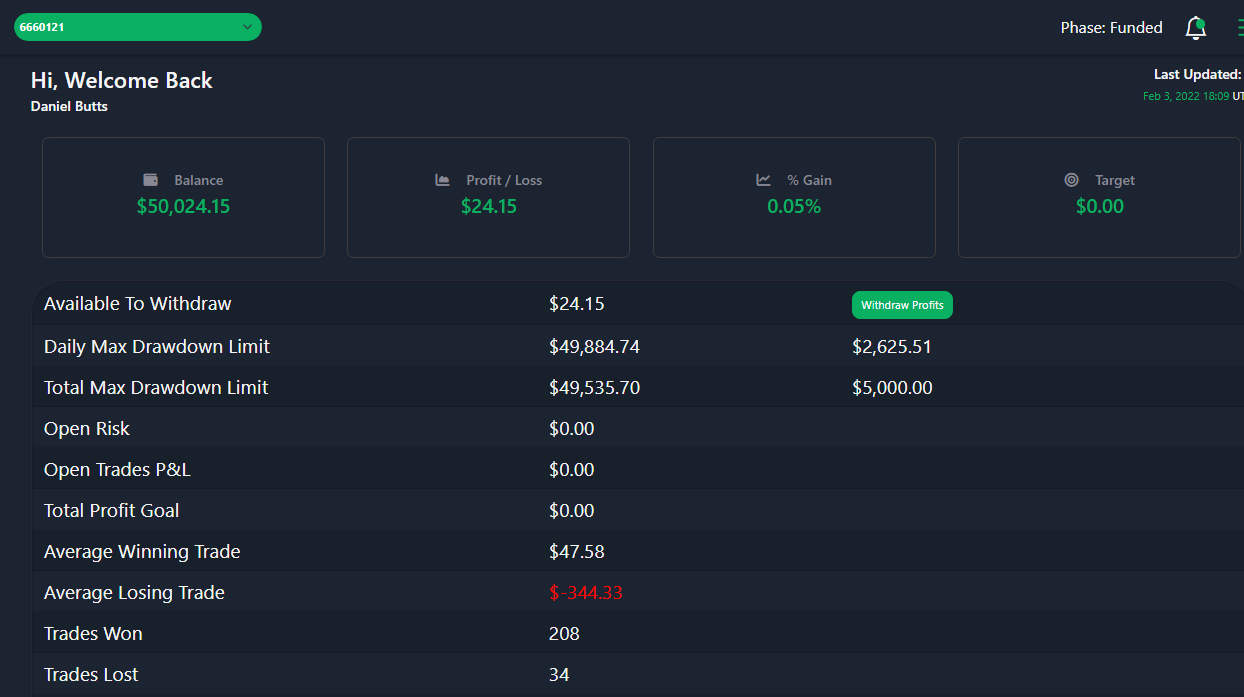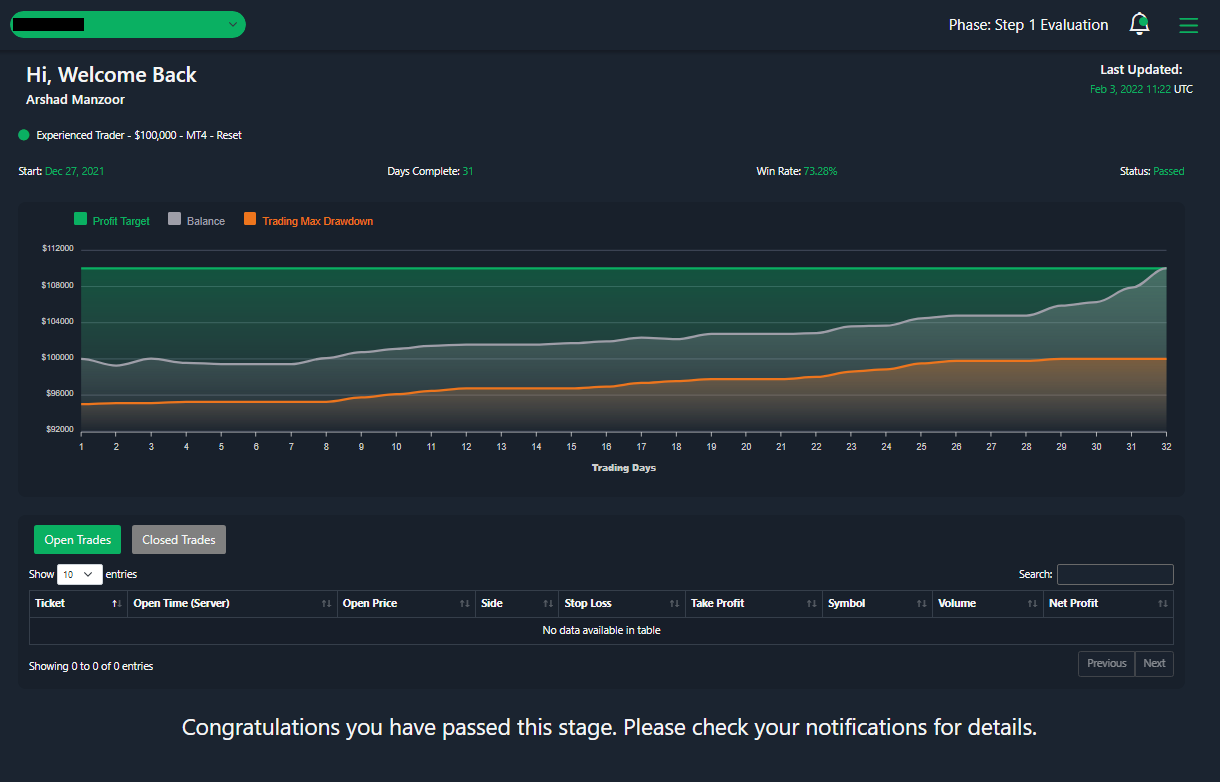 His Prop Trading Statistics
The impressive thing about Zulfi's trading is his consistent equity curve, gently increasing each day with a decent swing into his profit target. This is a trader who has taken his time and has a high win rate 73.28%.
Zulfi's Prop Trading Success Story
Why did you pick FT+
Once I had listened to the webinar and looked at your rules and profit sharing and that you're based in the UK is why I chose you.
Please give us a short history of your trading
I have been looking at trading for over 5 years but never had the time commitment to become consistent trader at an earlier stage. In the last 18 months I decided to spend more time developing a strategy that would prove to be consistently profitable over time. That was key to me. I have recorded pictures of the US30 one minute time frame charts for more than fifteen months detailing the potential strategy trade setups. I had to do this so that I had a record that the strategy was consistently profitable which in turn would give me confidence in trading it. I wanted to trade the US30 index as it has sufficient movement during market hours to provide you with the opportunity to earn a decent income/return. 
I have had to continually improve my strategy over the months and that has been a fantastic experience and I have learnt an incredible amount in that time. I would say that I have been consistently profitable now for the last six months and which is why I believe it was the best time to approach a firm like yours to take my trading to the next level.
How would you describe yourself as a trader?
Currently, intraday trader
Why did you originally start trading and what are your future goals?
For an alternative source of income and to learn another skill.
What has been your biggest trading success?
In my earlier days, I made £15,000 in one week.
What has been your worst trading experience?
The following week I gave it back.
What is the main strategy that you use?
I currently only trade the us30 on a one minute time frame. My primary set up is to look for a test of the trigger candle that has closed outside the upper or lower bollinger band. That test candle must not close outside the pivot of the trigger candle; otherwise the trade set up is void. I also look out for overbought/sold setups; when I trade these set ups at key levels, they tend to be very good trades. I will start using this set ups on other instruments as well once I feel comfortable with those.
Do you have systems to help money management and trade planning?
I have a simple trade plan for my trade setups. In terms of money management, I would normally risk no more than 1% on any single trade but I have found that with a larger account size I only need to risk approx. up to % on a single trade. I will determine this from my stop size and risk per trade. 
Do you keep a trade log/journal and has it helped you?
I have not been keeping a log but I intend to start recording my trades in a journal as now my trading is more consistent with the strategies going forward.
Can you describe a typical trading day
I am at my trading desk for pm in preparation for the US30 open. I have everything set up from the previous day. I will check how the index has been trading in the morning and will check forex factory for any impending news for that day. I watch the open and will start looking for my trade setups. If they appear, I will take them and then look to manage the trade. I will usually take a break during the US lunchtime and continue till the US close. After the close, I will go over the trades, see what I could have done differently to improve my trading and record the charts showing the trade set ups. I will then adjust the charts in preparation for the following day's trading.
What advice would you give to an aspiring new trader?
You need to decide what instruments you want to trade; you need to develop or learn a consistently profitable strategy; and then you need to acquire the discipline to maintain your rules for trading that strategy. 
What are your top 3 tips for passing a funded trading test?
1. Make sure you have a profitable strategy. 
2. Stick to your rules.
3. Do not risk more that you have to.
Final Note
Zulfi has put time and concentration into developing his own strategy. This is what gives him and edge. We look forward to working with him for a long time. You can watch Zulfi's interview below.