Reading Time:
4
minutes
No Time Limit Funded Trading Program Benefits this Trader
Rob Gee successfully passed our no time limit funded trading program recently. He started his successful journey to joining our funded prop trader team just before Chistmas. Here he explains why he chose this Experienced Trader Program and how he went about passing in 61 days.
Prop Trader Statistics
When I looked at Rob's funded trading statistics I was quite impressed, his trading started well but then took a bit of a fall. He didn't panic, he took some time off, thought about his processes and came back fresh. This fresh start shows a nice steady profit curve to the top.
As a prop trading firm looking for great traders with a clear understanding of risk management this is clearly a trader we want on our funded trading team. He benefited from our no time limit funded trading program as it enabled him to take his time and get it right. If he had been trading with our big competitors they would have failed him for taking too long or forced him to take trades when he really needed to take a break.
Start Date: 17 December 2021
Days to Complete: 61
Win rate: 48.28 %
Rob wins around half his trades. This is normal but what he does very effectively is close his losers before they damage his prop trading account. His average win is twice his average loss. That's a winning formula. Emulate his style and you too could win with a no time limit funded trading program.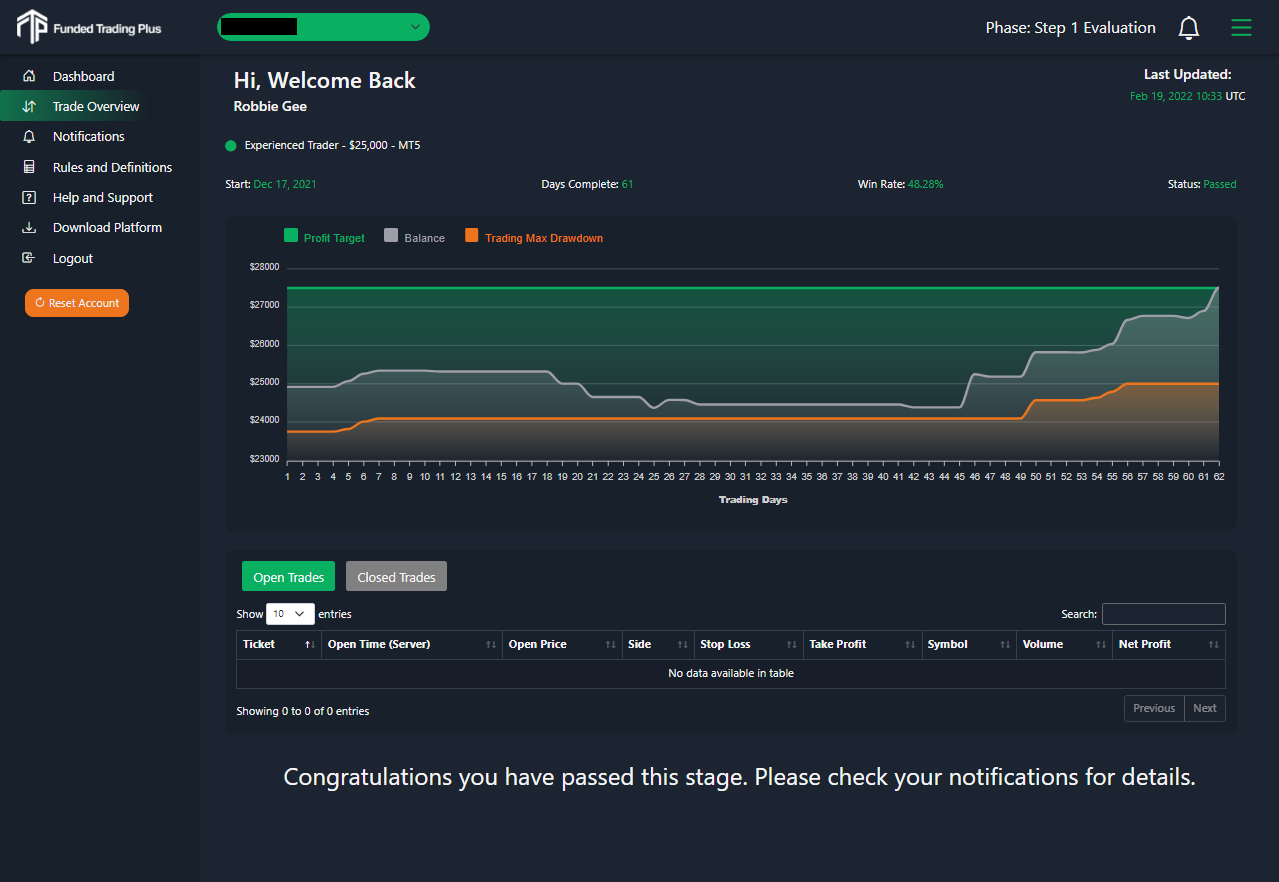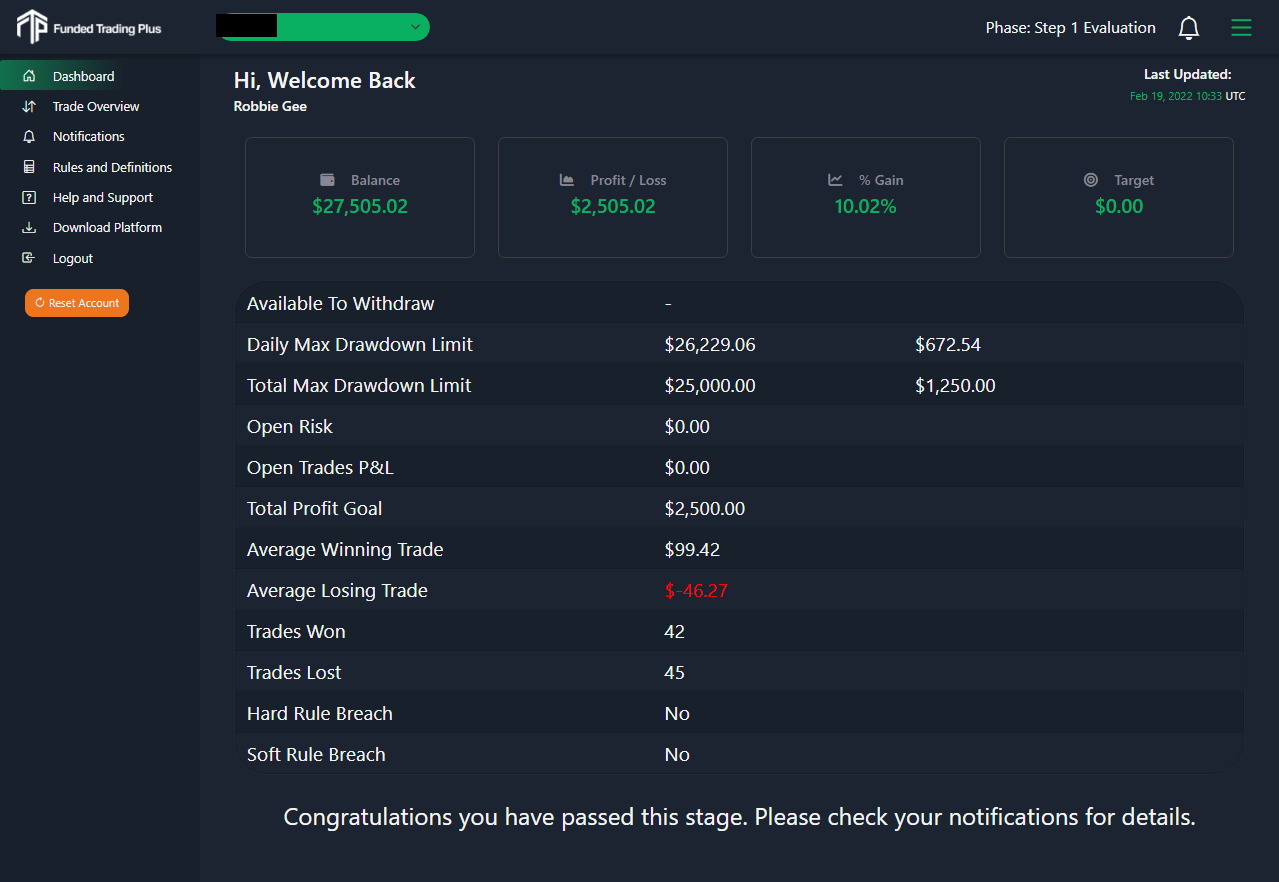 Our Prop Trader Interview
Have you used any other prop trading firms?
None – due to their time limits
Why did you pick Funded Trading Plus?
Been with Trade Room Plus for about 4yrs and when you did the webinar back in Dec it was a no brainer.
Please give us a Short History of your Trading
Trading for about 5 yrs with IG & Ninja trader…successful probably after the first year.
How would you describe yourself as a trader?
Short term-sometimes swing and support and resistance
Why did you start trading and what are your future goals?
After blowing up my first account it was something I wanted to learn…start small and build my account up.
What has been your biggest trading success?
Learning to manage my risk and to take a loss.
What has been your worst trading experience?
Blowing up my £5000 account thinking this is easy…It's not.
What is the main strategy that you use?
Support & resistance..watching the markets reaction, using RSI and FiBs 50%-61%
Do you have systems to help money management and trade planning?
I only risk 1% always use stop losses in ever trade
Do you keep a trade log?
Yes
Can you describe a typical trading day?
First check for any news overnight, also up and coming Economic calendar jump onto your live trading room and mark my charts up.
What advice would you give an aspiring trader?
Always use stop losses in every trade…learn risk management 1-2% and how to read charts.
What are your top 3 tips for passing funded trading tests?
1. Take your time
2. Let the trade come to you
3. Never chase a losing trade
Conclusion
Rob's success would not have been possible without a no time limit funded trading program. Having no time limit on our programs shows our commitment to helping traders pass our evaluation. No time limit or higher leverage – which is more likely help you pass, I welcome your comments below.
Simon's interview in full