Reading Time:
4
minutes
Funded-Trader Alert
Funded Trading Plus today issued a funded-trader alert. Traders can now get extra drawdown on the Experienced Trader Program and the prop trading rules have been simplified. Traders can now hold their trades over the weekend and no longer need to use pre-set stop losses. This program is now the most competitive in the industry.
The Most Competitive Funded Trading Program in 2022
The Experienced Trader Program offered by Funded Trading Plus is the most competitive prop trading program available on the market today. It is a one stage evaluation with an increased drawdown allowance of 6% and a target of just 10%. Traders have a 3% daily drawdown limit and have no restrictions on their trading. Traders can use whatever strategies they are most comfortable with and are allowed to use EA's to help their trading.
This program has been the most popular of the programs we offer at Funded Trading Plus. The changes we have now made on this program will mean many more traders looking for a realistic opportunity to become a prop trader will choose to trade with Funded Trading Plus.
Funded-Trader Alert – New Experienced Trader Program Rules
Overall drawdown increases from 5% to 6%.
Daily drawdown increases from 2.5% to 3%
Target remains 10%
No stop losses needed
Allowed to hold trades over the weekend
EA's allowed
Futures Indeces, Forex, and Crypto allowed
Refundable fee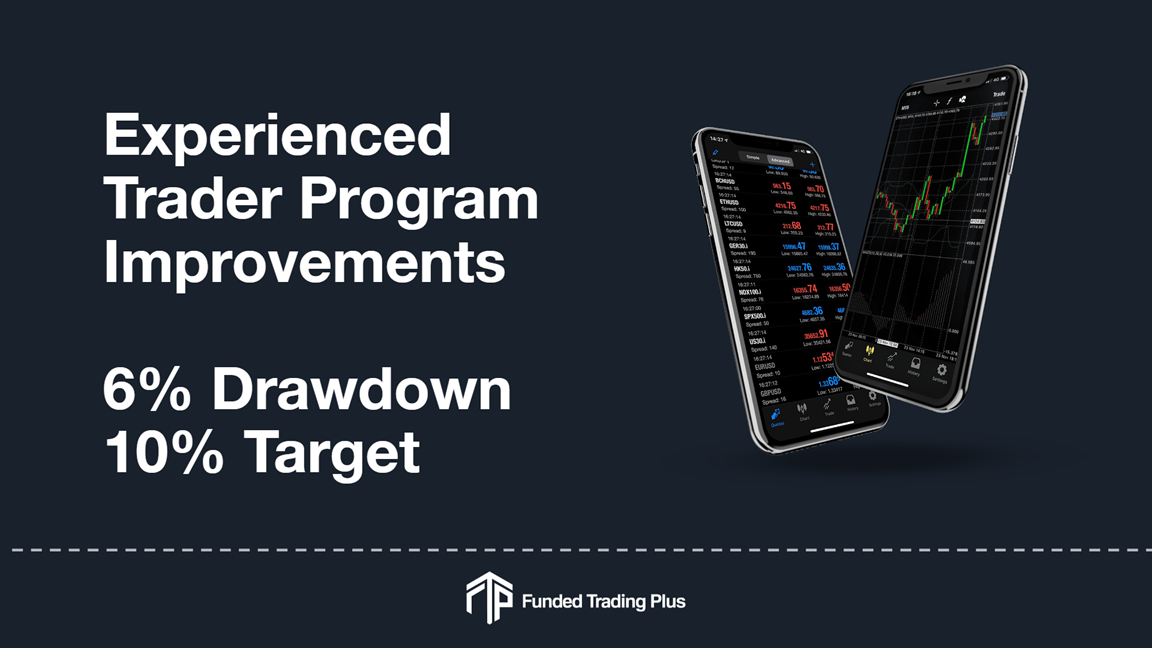 The Best Prop Trading Account for 2022
In our view the Experienced Trader Program is the Best Prop Trading Account available in 2022. Although specifically aimed at experienced traders there is an entry level program for traders who want to try prop trading for the first time. The program sizes start at $12,500 up to $100,000 and traders are able to scale up to an impressive funded-trader maximum of $2,500,000.  
Funded Trading Plus #1 Choice for Prop Traders
Funded Trading Plus is rapidly becoming the number one choice for many prop traders. Most of the traders who have joined us have previously had accounts with the bigger firms in the market. They have come to us because we offer much fairer rules and the traders therefore have a higher probability of becoming funded prop traders. In fact we believe that our account pass rate is 8 times higher than the figure published by the biggest prop firm in the industry.
Funded-Trader Confidence
Prop traders can be confident that they will be paid as funded traders by Funded Trading Plus no matter how big their win is. This is because we place every funded-trader in the real live market. This means that if they quickly produce massive profits on their account, then these profits have been created in the real market. Many of the competing prop firms do not do this. Most keep traders in a demo environment even when funded and therefore no money is ever generated. These prop firms never make a loss on trading but they are betting on the fact that they can pay out the funded traders with profits from their fees.  
Big winners beware – demo only prop firms might not have enough to pay you and will find a hidden rule to exclude you. You will find numerous complaints from prop traders in forums who have fallen foul of the prop firm that can't afford to pay them. Certainly, some prop firms have stopped operating for precisely these reasons and you will find details on Funding Talent and the most recent to close DT4X online.
We recommend that traders do their due diligence and avoid firms that do not place their trades in the real market unless they are confident that they are big enough to absorb the cost. If the firm does not tell you when you ask, then they are almost certainly not putting your trades in the real market.
The Funded Trading Plus Difference
Our firm has been founded by traders for traders. We have developed our prop funding programs to be better than the other programs in the market and to have the fairest and simplest rules in the industry. We want traders to do well and trade profitably, it benefits us and it benefits them. 
Further Reading
FTMO Accounts Vs Funded Trading Plus Accounts  
Get a Free Funded-Trader Account  
The Experienced Trader Program
The best funded trading firm for crypto